The majority of visitors to Canada come by plane. Most of them arrive at one of Canada's three largest international airports. Other entry points include flying a direct flight to cities like Halifax, Winnipeg, Edmonton, or Calgary. The size of the country makes flying between locations popular with visitors who want to see more than one part of Canada.
Canada has many transportation choices to see most of the country. The national rail network, VIA Rail, and long-distance bus routes provide transportation for visitors who want to travel to locations that cannot be seen any other way. There are also options for short cruises and ferry rides to get some spectacular scenery. Exploring Canada by car is also an option, though it can only be done when driving on highways or private roads.
Arriving by Air
Air Canada is involved with many international airlines. They are the leading airline in Canada and work with major carriers worldwide. For example, European airlines all fly into Toronto or Montreal. Another example, in a different region, is that Vancouver works with airlines such as Cathay Pacific or Qantas and other nations from Asia. Visitors who intend to see parts of the U.S. and Canada can find plenty of connecting flights to such principal US destinations as New York, Los Angeles, Dallas, Chicago, and Atlanta. See the most prominent international airlines flying to Canada here.
Airfares
Sometimes, starting your adventure in Canada can be expensive, but booking a ticket for an Apex fare is cheaper. To get an Apex, you must purchase that ticket at least seven days ahead (significant airlines like Air Canada have them). Tickets for a vacation can have restrictions, such as the time you plan to stay, which should be considered. Once you buy a ticket, it can be challenging to change, so it is essential to consider your options. Charter flights can offer you discounts that are up to 20% cheaper. Round-the-world flights are on the rise, as well as package vacations, which include some choices. Package vacations involve a reduced car rental fee and are available for guided tours with all accommodations, transportation, and meals.
International Flights
When flying, it may take as much as 25 hours for someone to fly from Asia or Australia across the Pacific. For comfort, you may want to consider a stopover in Hawaii, which many people do. Canada's busiest airports include Toronto, Montreal, and Vancouver. Visitors can fly direct into Edmonton, Halifax, Ottawa, Winnipeg, or St. John's with 13 international airports across the country. Some deals allow you to reach one city in North America and leave from another with all major cities connected through Canadian airports. See the major international airlines flying to Canada here.
On Arrival
Before landing in Canada, you will fill in customs and immigration documents. On arrival, you must present them and your passport to the appropriate customs officials. Larger airports offer a wider variety of services, but most airports have bookstores, medical facilities, and other places to spend your money. There are many car rental stations at the airport, shutting buses to take customers into town. There are also wheelchair ramps and other facilities for disabled travelers. People planning to catch a connecting flight must check in with another airline after clearing customs. When you book your flights, ask airline staff to help with your arrangements with a domestic flight. If you are at a large airport such as Toronto's, there will be 3 different terminals nearby.
Domestic Airlines
The distances in Canada make flying domestically a common practice. Numerous airlines around the country have domestic flights, some with links to Air Canada. The smaller airlines have routes within provinces and remote locations, often the only option for transportation. In all, there are 125 domestic destinations. Domestic flights can be pre-booked with travel agents before departure or upon arrival in Canada, through local agents, or online. Fares for domestic flights along busier roads are getting cheaper, and discounts are offered in the local press. Discounts exclusively for foreigners are available too, as well as smaller planes that you can hire to take over Baffin Island if you want to do so!
Air Routes and Airlines
The impressive array of domestic flights available here means that most of the nation's smaller urban areas are within reach of regular services. However, you will generally have to fly to the major city in the area, principally Vancouver, Toronto, or Montreal, and then take a connecting flight. Some smaller airlines are connected with Canada's primary carrier, Air Canada, and booking your connection through the national airline is often possible.
Most of the country's long-haul domestic routes run east to west, connecting the cities: from Halifax on the east coast, through Montreal, Toronto, Ottawa, Winnipeg, Calgary, and Edmonton to Vancouver on the west. Longer north-to-south flights to places such as the Yukon and Northwest Territories usually originate from Edmonton and Winnipeg. In the remote north, another option is to reach a faraway destination such as Baffin Island (which can only be reached by boat during good weather). The exception is Churchill, Manitoba, which can be reached by train.
Principal Domestic Air Routes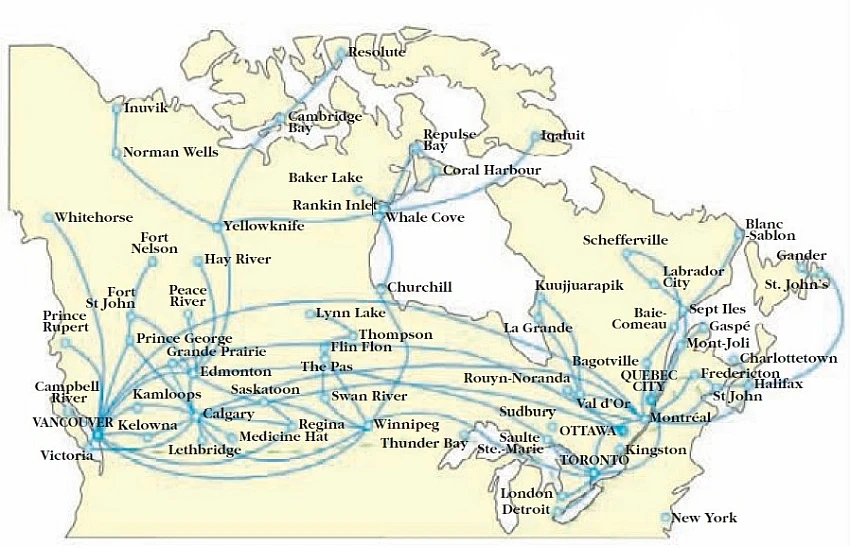 Major International Airlines
If you want to travel to Canada, you'll want to consider flying with one of the major airlines. These airlines offer a variety of destinations and prices, so you can find a flight that works best for your budget. Some major airlines that offer flights to Canada include American Airlines, Delta Airlines, and United Airlines. Here are the most prominent international flight providers flying to Canada:
Whichever route and provider you choose, be sure to read up on the airlines that are available before booking your ticket!
Budget Airlines
If you're looking for a budget airline to travel to Canada, try Air Asia or Southwest Airlines. Both airlines offer great rates and have a variety of destinations to choose from. You can also search for promo codes online to get even more savings.
Discounts
Canada has a variety of bargain deals for domestic travel, especially low-cost airlines like WestJet. If you want to take advantage of inexpensive tickets, you'll need to plan, and the earlier you book, the better. For example, Apex (advanced purchase excursion) fares only deliver a discount if booked at least 7 days ahead and have restrictions on flight length and traveler time (for example, they can only be purchased on certain days).
Airline deals are frequently designed to boost travel by discounting tickets during off-peak periods, but be aware that there is often little flexibility when it comes to these deals. Suppose you want flight itineraries that offer more flexibility or travel outside North America. In that case, Air Canada offers pass deals for travelers who visit multiple regions. The U.S. One of their most popular pass deals involves buying several coupons, each worth a single flight within either the continent or a specific region you choose. Make sure not to forget the dates specified in your chosen fare and check the rest of their website to find out which flights qualify for your desired scope before purchasing.
Air Canada is the largest airline in Canada, providing domestic and international services. The airline has a strong partnership with other airlines, allowing it to provide an extensive domestic network. WestJet focuses on providing service to western destinations within Canada.
Conclusion
When deciding to travel, always be mindful of its costs. Apex fares can be cheaper than other options, but it is essential to consider all your options before booking. Charter flights often offer discounts that can amount to 20% or more. And finally, when looking into a trip's specifics, don't forget about package vacations – they often come with significant savings on car rental fees and guided tours that include all accommodations and meals.
With these tips in mind, you're sure to find the perfect Canadian adventure for you!