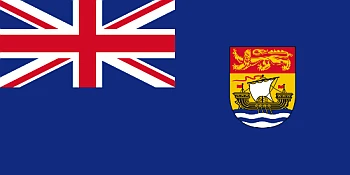 Formation: 1867. The origin of the name: Named by King George III of England in honor of his German lands, the Duchy of Brunswick-Lunenberg.
TIME: 8 AM AST = noon GMT.
New Brunswick is the second smallest province in Canada. It has around 750,000 people and an area of just over 50,000 square kilometers. New Brunswick is home to the third-highest number of Francophones outside of France. It borders only one other Canadian province: Quebec. The capital of New Brunswick in Fredericton, and its largest city is Moncton, with about 150,000 people.
New Brunswick is a crown jewel in Canada's maritime provinces. It has a rich and diverse culture, including agriculture, forestry, fishing, mining, and tourism. It is a beautiful place that is rich in culture and nature. The capital has many historical buildings and museums to explore. While it doesn't offer much in terms of outdoor activities, there are plenty of lakes close by where you can go to enjoy the scenery.
Map of New Brunswick
The climate of New Brunswick
Inland areas, the climate is generally drier and warmer than in coastal areas. The highest recorded temperature was 103°f (39.4°c) at Nepisiguit Falls on 18 August 1935; the lowest recorded temperature was -53°f (-47.2°c) at Sisson Dam on 2 February 1955. The beach waters on New Brunswick's Gulf of St. Lawrence coast are the warmest along the Atlantic north of Virginia.
Facts about New Brunswick
New Brunswick is the only province with official bilingual status; French and English are equal.
New Brunswick is one of the 4 original provinces that joined the confederation in 1867.
New Brunswick is roughly rectangular, 210 miles from north to south and 185 miles from east to west.
To the north, it is bounded by Quebec, to the east by the Gulf of St. Lawrence, and to the south by the Bay of Fundy.
The land has a drastic cover difference as you move south to north, with many spectacular rocky outcroppings.
The province is covered in forests, and the coniferous trees common in a northern temperate climate make up most of the forest.
Early settlers began life in America by fishing and farming, settling on the coastline and rivers, followed by opportunities.
New Brunswick had a low population growth rate in the early 21st century because many people left to find jobs and higher salaries elsewhere.
New Brunswick has a resource-based economy based mainly on forestry, mining, and fishing. Tourism, agriculture, small-scale manufacturing, and the service sector provide balance and variety in the economy.
One-fifth of the landmass in the province is suitable for agriculture, but less than one-third of it is cultivated.
Forestry is the province's largest industry. Pulp and paper production represents the industry's most significant single component. Several cities and towns depend on large pulp and paper mills as their significant employers in the province's north.
Google Maps of New Brunswick
For some reason, New Brunswick isn't usually considered a top priority when first-time travelers start to plan their visits. Even in Canada, it's as well known for its production of pulp mills and industrial forests as its cute villages and high tides.
Canadian citizens and foreigners visit this place. It's confused chiefly with a similar-named city in New Jersey. Either that or they drive through it quickly on their way to Nova Scotia and Prince Edward Island.
There are many different things to do in New Brunswick. It is a beautiful place with its own unique culture and is not as popular as places like Cape Breton.
If you like doing a little homework before your trip, you can find many fun events around the province. The beaches are warm, and many have been compared to Prince Edward Island. The waterfalls are beautiful, and you can snap photos of them on sunny days. You can see the tide coming in, and it's bigger than any we've experienced before. And at night, you can visit a chocolate museum!
You can explore a salty, pubby maritime city in Nova Scotia, Saint John. It features the same blend of arts, culture, and beers that makes Halifax famous.
There are a lot of people who believe that this province has the warmest summers and sunniest winters in the country. In addition, a provincial tourism commission has often been too eager to make these claims. We believe this is missing the point because these provinces do not need to put such a big effort into making their claims about having the best summer for everyone.
Do not let the first impression of New Brunswick get you down. There is more to it than what you see on the highways. Explore beyond the highways to find a place full of friendly people, beautiful landscapes, and a fun time.
Visit this page for driving directions in Canada.