Formation: 1905. Named after Princess Louise Caroline Alberta, fourth daughter of Queen Victoria. Time: 5 AM MST = noon GMT.
Alberta is the fourth-largest province in Canada. It shares a border with British Columbia and Saskatchewan in the east and the North American Great Plains to the south. Its western area has a hilly, rocky terrain that gives way to prairies, agriculture dominates, and few trees. It was initially inhabited by indigenous tribes who relied on hunting for their food supply. French explorers eventually explored the area before being colonized by France as part of New France. The territory became a province in 1905 after being joined by other British colonies.
Alberta, Canada, is a beautiful province with many tourist attractions. If you're planning a vacation, you will want to include Alberta on your list of places to go. Calgary is the largest city in Alberta and has some of the most exciting and beautiful buildings, such as the impressive Museum of Fine Arts. If you enjoy skiing, you can visit Banff National Park, which spans 1,600 square kilometers (620 sq mi). It's also home to three pretty stunning mountain ranges.
Map of Alberta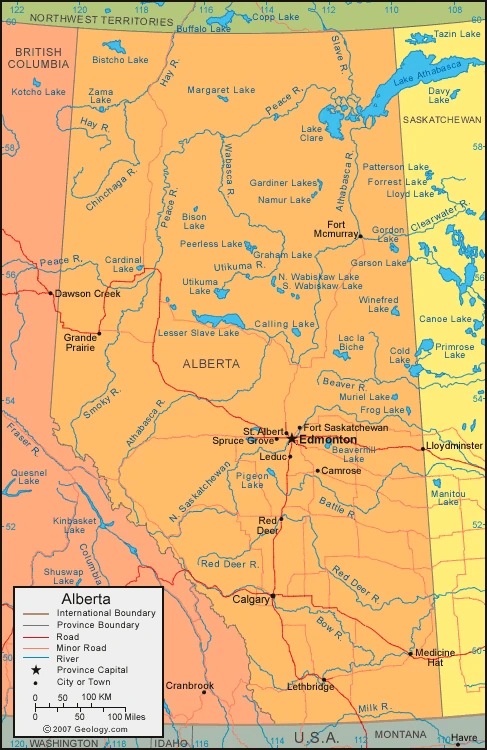 Climate of Alberta
Alberta, Canada, has a continental climate. It has cold winters and hot summers, especially compared to other provinces. Alberta also has more sunshine than any other province in the country; therefore, it is sometimes called the Sunshine Province. In Alberta, the average temperature varies from 15°f (-9°c) in January to 62°f (17°c) in July. The Chinook wind is a frequent feature of the southwest, funneling mild air from the Pacific Ocean. Edmonton's weather varies greatly between winter and summer; temperatures in the winter are around 10°f (-12°c), while those in the summer are around 64°f (18°c). The hottest recorded temperature in Alberta was 110°f (43.3°c) on 21 July 1931 at Bassano Dam, while the coldest ever recorded was -78°f (-61.1°c) on 11 January 1911 at Fort Vermilion.
Facts about Alberta
Alberta is one of the three provinces in Canada located in the Prairies. It borders the Western provinces to its west.
The Northwest Territories are bound 60 degrees north, the U.S. bounds 110 degrees west, 49 degrees north, and the Rocky Mountains in Canada form the international boundary with Montana.
Alberta is a province that has its provincial government in Edmonton. It was founded as a district of the North-West Territories in 1882 and was enlarged into its present boundaries when it became a province in 1905.
Agriculture developed in Alberta due to fur traders exploring the prairie and parkland zones, which extend from the forest to the border with the United States.
Oil, gas, coal, and timber provided resources that led to further population growth. This increase in urbanization and industrialization led to a need for more infrastructure like roads and power lines.
The province is still sparsely populated, and the isolation from other parts of the country has inhibited the growth of industries that require large markets.
Alberta is a geographically central province in Canada with access to the north. The parks of this area are internationally known. The size is 255,541 square miles (661,848 square km).
Mount Columbia is the highest point in Alberta, and numerous other peaks in Alberta are over 3,700 meters.
The area has some outcroppings of highlands, like the Cypress and Swan farms and the Caribou Mountains. Generally, the plains drop from over 3,000 feet or 900 meters in the southwest to below 1,000or 300 meters in the northeast.
The Columbia Icefield is an essential part of Alberta for the Athabasca and the North Saskatchewan Rivers. The first becomes the Slave River after flowing through Lake Athabasca.
The Saskatchewan River system dominates the southern portion of the province. The Milk River drains a small area into the Missouri River.
Alberta's rivers are brutal on the landscape and usually flow through deep valleys. These eroding valleys can lead to damning landscapes of barren soil or "badlands".
Home to Red Deer, Alberta is famous for its dinosaur history.
The province of Alberta has about 16,800 square kilometers (6,500 miles) of fresh water.
Albertans have a dry continental climate, with the most sunshine of any Canadian province. Winters are traditionally sunny and cold in the province, though Chinook winds can raise temperatures by 40 °F (22 °C) in an hour or less.
Summers are warm and wetter, with occasional destructive hailstorms.
The dominant grasses are the blue grama and other types in the prairie. Cacti, tumbleweeds, and sagebrush also grow there. There are not many trees naturally growing outside of river valleys.
The forests in the foothills and north areas have a mixture of trees. They can be aspens, white, yellow spruce, or lodgepole pines.
Meadowlarks and pronghorn can be found in the prairies, while the badlands support rattlesnakes, horned lizards, and scorpions.
Some animals common in parkland areas are white-tailed deer, beavers, and coyotes. The great horned owl, the provincial bird of Ontario, rears their young in old crow's nests.
Fur-bearing animals and big game can be found in the northern forests. Gray jays are often seen near campsites, and lake animals like loons can also be heard.
The highlands are home to various species, including mule deer, black and grizzly bears, golden eagles, etc.
Many animals such as whitefish and trout also inhabit the lakes and rivers. Some of these habitats are protected in preserves such as parks and wilderness areas.
Alberta was one of the most diverse provinces in Canada. After World War II, many people came to Canada and immigrated worldwide. Most-if, not all-of, these people came from the British Isles and Europe, but now more people have come to Alberta from other continents.
A small percentage of the population are ethnic minorities, and a small minority are Native Americans.
While the landscape in the agricultural area is relatively uniform, there are significant variations. The Peace River block forms an agricultural area to the northwest.
Parts of the foothills are often used for recreational purposes. However, there has been a lot of forest cover in these places because of oil drilling, coal mining, and clear-cutting for lumber.
Canada's vast northern forests are the country's richest natural resource.
The towns in the larger centers often have unique characteristics different from the buildings.
Towns such as Peace River, where you're sent to a spectacular river valley, and Drumheller, set among extensive badlands, are examples of towns with exciting or unique characteristics. Streets usually follow a rectangular grid pattern, often 'elongated along a river frontage or railway.'
Edmonton and Calgary are central cities that serve primarily rural areas. Red Deer, Medicine Hat, the southwest, and the southeast, respectively, all have a significant city nearby to serve them.
Among the largest cities in Canada, it's still possible to find parks and green spaces between high-rise buildings and expressways.
With roughly half the agricultural land used to grow crops and the remainder to raise livestock, one-third of Alberta's land area is in agricultural use.
The main crops are wheat, barley, and grain. Specialty crops such as sugar beet, potatoes, peas, and mustard seed are also grown locally.
Beef cattle dominate livestock production in Alberta, but pigs, poultry, and sheep are also raised.
The forests in British Columbia cover more than half of the province. The main timbers are aspen, white spruce, and pine trees, used for lumber, wafer board, newsprint, pulp, and paper.
All of Canada's fossil fuels can be found in Alberta. There is significant oil and natural gas production. Some heavy crude oil and oil sands are also exploited, with significant deposits in the Lloydminster, Cold Lake, and Fort McMurray regions bordering Saskatchewan.
The production of natural gas and oil in Alberta heavily impacts the economy. With fluctuations in world oil prices, the economy has seen many changes. Alberta also produces coal, sand, gravel, and limestone. These minerals and sulfur from gas make up most of Alberta's wealth.
Google Maps of Alberta
Visit this page for driving directions in Canada.