Formation: 1870.
Manitoba is the fourth-most populous province in Canada. It has been inhabited for thousands of years by different indigenous tribes. The first European settlement was in 1690, with the Hudson's Bay Company setting up a fur-trading post that later became the city of Portage la Prairie. Manitoba is one of Canada's most popular provinces, with abundant agriculture and outdoor activities.
Manitoba is also famous for its diverse landscape. There are many beautiful natural areas to visit, such as Riding Mountain National Park, Spruce Woods Provincial Park, and Whiteshell Provincial Park. Visiting these parks can be a great way to get some exercise while enjoying nature at the same time. The capital city of Manitoba is Winnipeg, and its largest city is Brandon. The most common languages spoken in Manitoba are English, French, and Cree (a North American Indigenous language).
Map of Manitoba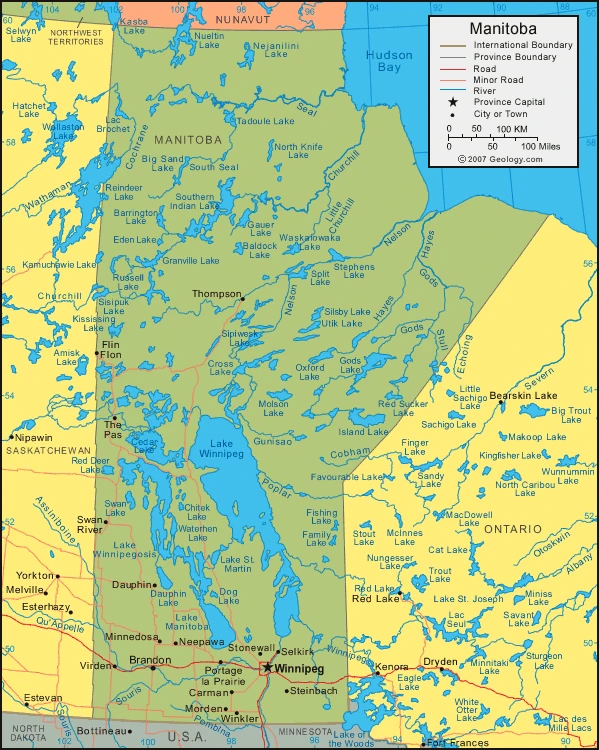 Facts about Manitoba
Manitoba is a Canadian province located in the western part of the country.
Manitoba is diverse, with many ethnic enclaves in Winnipeg.
Winnipeg is the economic capital of Manitoba and the fourth largest city in Canada.
The province of Manitoba is bounded by Nunavut territory to the north, Hudson Bay to the northeast, Ontario to the east, Minnesota and North Dakota to the south, and Saskatchewan to the west.
The First World War had a negative image on Winnipeg's local economy. The price of wheat plummeted, causing the prices in Winnipeg to plummet as well.
Manitoba is a large province with 100,000+ lakes, including Lake Winnipeg. About 40% of the land in Manitoba is forested.
Manitoba is an excellent place to hunt & fish and if you like winter sports.
The province´s name comes from a Cree word meaning "the narrows of the Great Spirit." This is about Lake Winnipeg, which narrows at its center.
Manitoba was admitted to Canada in 1870 when the Red River settlement became its fifth province.
The province of Manitoba has not shown the same fluctuations in growth that other areas of Western Canada show. Instead, the political and cultural life tends to be different from other parts of Western Canada's society.
The extreme southern section of Manitoba comprises the Saskatchewan plains, which are fertile land of level prairies and rolling pastures.
The Manitoba Lowland is a basin created by glacial Lake Agassiz, which now includes three smaller lakes: Lake Winnipeg, Lake Winnipegosis, and Lake Manitoba.
The landscape of northern Manitoba is marked by Upland plateaus, wooded river valleys, limestone outcrops, forests, and swamps. This area drains into the Red River of the North and the Assiniboine River.
The Canadian Shield area is covered with (a) many forests, rocks, and rivers. It covers about three-fifths of Manitoba, and the rivers draining into Hudson Bay are Nelson and Churchill.
Manitoba has a climate known to swing between many extremes, with hot summer days and cold winter nights. A year typically sees an average of 14 inches of rain.
Open grasslands once covered the southern part of the province with little tree coverage. These regions have been turned into farmland, and aspen, oak, willow, and poplar are common in river valleys.
Trees in the north include white and black spruce and other forest products. Some trees in the Hudson Bay lowlands are willow, spruce, and moss.
Many diverse and unique animals also inhabit the Northern Forest. Caribou live in the North, along with animals such as Arctic foxes, martens, wolves, otters, lynx, red squirrels, and mink. The Northern Forest is more densely populated than the southern region because of its proximity to water. So while deer, moose, cougars, elk, black bears, beavers, and weasels populate the south, some species still arrive in southerly winters, such as moose. Some animals such as penguins and seagulls make a home here too.
The Manitoba Museum is well-regarded in Canada, and it only costs $160,000 to start. It has an extensive selection of natural history that spans Manitoba and is available to the public while they enjoy educational programming.
Google Maps of Manitoba
Visit this page for driving directions in Canada.