Formation: 1873.
Prince Edward Island, a Canadian province and the smallest in the country is located on a large island off the east coast of Canada. Its mild weather, sandy beaches, and beautiful scenery are often called "Canada's Summer Playground." The Island has one city of any significant size (Charlottetown, home to many historic buildings and museums) and is heavily reliant on seasonal industries such as lobster fishing and farming. Residents are mainly English-speaking, with French minority speakers in some rural areas.
Prince Edward Island is a Canadian province with a population of about 140,000. It is located in the Gulf of Saint Lawrence, along the eastern seaboard in Canada. The island was named after Prince Edward Augustus, the Duke of Kent.
The island includes several communities, towns, and villages scattered across its landscape. The population density is 42 people per sq km, meaning that it's one of Canada's least densely populated places. There are many natural attractions for tourists, such as sandstone cliffs, beaches, and clear blue waters.
Map of Prince Edward Island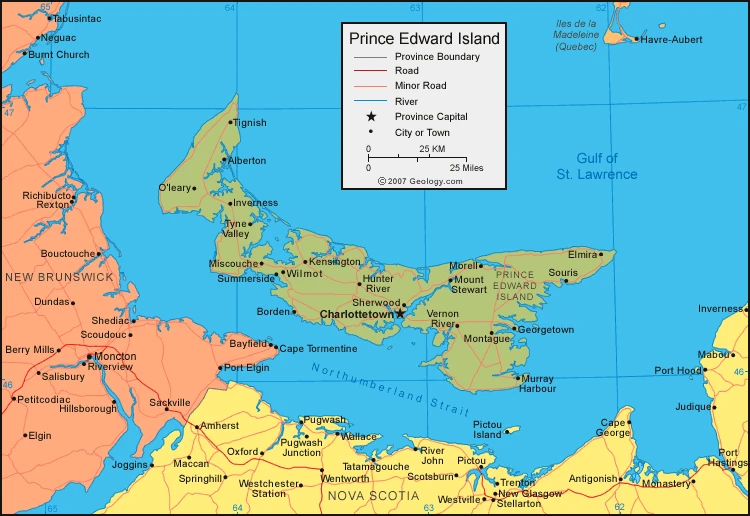 Facts about Prince Edward Island
Prince Edward Island is one of the Maritime Provinces in Canada.
Prince Edward Island is around 225 kilometers long and ranges from 3 to 65 kilometers in width.
It is located at the coordinates of 46°-47° N latitude and 62°-64° W longitude. The Northumberland Strait is to the south, separating the island from Nova Scotia and New Brunswick.
It is nicknamed the "Garden of the Gulf" and the "Million Acre Farm". It is also sometimes referred to as "Spud Island" because of its potato production.
The shoreline features many bays and estuaries. Dunes generally block these on the north side, but there are good natural harbors on the south and west. The average height of the red sandstone cliffs is 20 feet (6 meters), but some rise to 50 feet (15 meters).
There are hills in central Queens county and level stretches in western Prince county. Queens County has the highest elevation of 466 feet (142 meters) above sea level.
The ocean dramatically influences the climate of Prince Edward Island. It often experiences a delay in weather changes and can be significantly impacted by the ocean's temperature.
The average mean temperatures year-round are around 40 degrees Fahrenheit, but extreme fluctuation is still.
Google Maps of Prince Edward Island
Visit this page for driving directions in Canada.