Formation: 1867.
Nova Scotia is a Canadian province with two central coastal regions: the northern and southern maritime regions. The province's capital city is Halifax, and it also has Lamentin, Dartmouth, Bedford, and Antigonish as some of its other major cities. Nova Scotia is one of Canada's smallest provinces, but it is still very diverse due to its rugged coastlines, forests, and highlands.
Many natural resources are found, including fossil fuels and minerals like gold, silver, copper, and gypsum. It also has a booming fishing industry, with lobster as its most popular product.
Map of Nova Scotia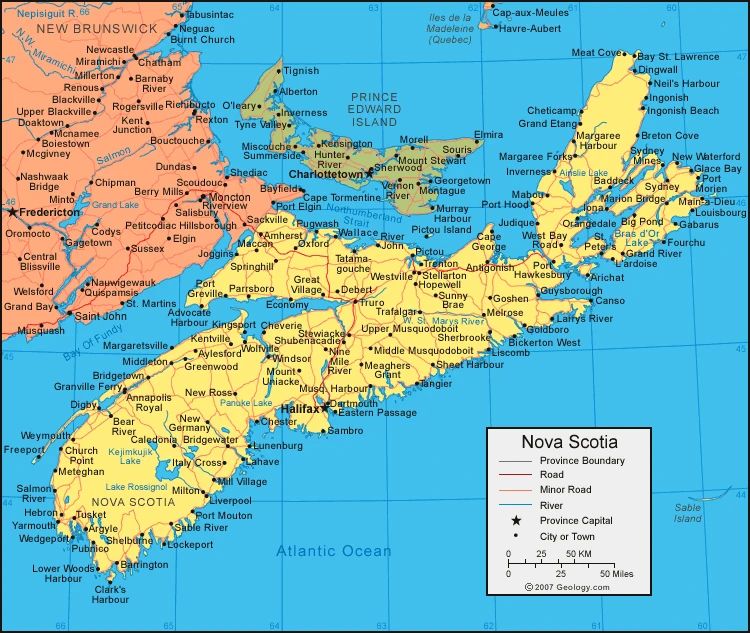 Facts about Nova Scotia
Nova Scotia is located in Eastern Canada, one of the original provinces, and New Brunswick, Ontario, and Quebec.
Nova Scotia has over 13,000 kilometers of coastline, which means many coastal activities. Activities include building sandcastles and flying kites, walking barefoot in the sand, playing in the waves, or surfing.
The mainland of Nova Scotia is about 360 miles long, but it's a little narrower than 80 miles. To the southwest, Cape Breton Island and a few smaller islands are separated from the mainland by a narrow strait called Canso.
The province of Nova Scotia is bordered by several bodies of water, including the Atlantic Ocean and the Gulf of St. Lawrence to the east and northeast, respectively. The province's northern border is along Chignecto Isthmus, while two straits separate Nova Scotia from its neighboring province, New Brunswick. Halifax is Nova Scotia's capital and lies on another body of water called the Bay of Fundy in northwestern Nova Scotia.
Nova Scotia is a Maritime Province in Canada. The province first became a site of European settlement in North America north of Florida when the French established a fur-trading post at Port Royal (near present-day Annapolis Royal) in 1605.
Nova Scotia's upland regions reach a maximum elevation of more than 1,700 feet (520 meters) above sea level in the Cape Breton Highlands. The essential lowlands lie along the Bay of Fundy and the Minas Basin in the southwest and Northumberland Strait. Many of the tens of thousands of acres of marshland created by the tremendously high tides – among the highest in the world – of Bay of Fundy have been turned to agricultural use by dikes, which were begun in the mid-17th century by early French settlers, Acadians.
This region is unoccupied by vegetation, with a highland plateau not deeply eroded by streams. There are over 3000 lakes and rivers of varying sizes in the area. The most famous lake, Bras d'Or on Cape Breton Island, is saline and connected to the Atlantic Ocean with three short channels.
A large portion of the southern peninsula on Cape Breton Island is mountainous and forested, with Podzolic soil dominating the terrain. A small island section is covered in sandstone, supporting orchards and field crops.
Nova Scotia is a modified continental climate greatly influenced by the proximity of the Atlantic coast. The coastal regions experience warmer days in the winter than other parts of Atlantic Canada. Halifax, on the northeast corner of Nova Scotia, is 24 degrees Fahrenheit in January and 66 degrees in July.
Forests cover 80% of the land. The crown holds One-quarter of the wooded area, and trees cover four-fifths. Most wooded areas comprise softwoods like balsam, spruce, hemlock, and pine. The remaining hardwoods are primarily birch and maple. Many types of animals are found in this environment, including deer, moose, and birds such as partridge, pheasant, and duck.
Nova Scotia is where the Mi'kmaq People lived for centuries before Europeans arrived. The Mi'kmaq used the land for hunting and gathering and spread across Newfoundland and New England.
Acadian communities in Nova Scotia have shaped the culture for centuries, which is still present today.
Most Nova Scotians are descendants of the settlers from the United States and the British Isles who settled in Nova Scotia. New Englanders or Americans loyal to Great Britain settled in western and northern Nova Scotia in the late 18th century – this group became known as "Planters." Settlers from Scotland founded Lunenburg, and some Irish people moved there. Some Germans also migrated to Nova Scotia.
Google Maps of Nova Scotia
Nova Scotia is more than just a pretty picture. It seems boring on the surface, but it resists characterization at every turn. So much so that you might think it would be unfriendly and uncultured, but it turns out to be friendly as all get out despite its seeming humdrum feel. When you explore this charming little island, you stumble on some of the best hiking in Cape Breton. And once you get into the woods, a local Celtic band starts playing, and your ears perk up to the sound.
This area has rolling hills and cultivated farmland nearby, especially the Northumberland Straits on the northern shore. But Halifax, a city in Nova Scotia, has a vibrant and edgy arts and entertainment scene.
Nova Scotia is known for its Highland Games, kilts, and brogue. It also has Acadian culture in the form of small villages dotted along the southwestern coast and near Cape Breton.
But this province is also a good vacation for the kind of traveler who's not yet ready to tackle Nepal. You can do low-key Sunday drives here 7 days a week without a traffic jam. The scene changes almost kaleidoscopically as you wind along Nova Scotia's roads: from dense forests to bucolic farmlands, from ragged coastline cliffs to melancholy bogs, from historic villages with tall ships lazing about at port to dynamic little downtowns serving up everything from fish and chips and a pint to the occasional gourmet eatery. Pretty much the only terrain Nova Scotia doesn't offer is, well…"
The province is twice blessed. Halifax provides enough attractions and activities that you don't have to travel much outside the city. Yet, with a population below a million, it is still possible to find natural spots in most parts of the province where it feels as if you are surrounded by a big ocean and long, profound history.
While traveling through Nova Scotia, New England felt like it was just before the development of tourism. You can feel this by exploring the area and doing historical research.
Before leaving home, by visiting a map, make sure you know which places are worth seeing. There are endless options for tours and itineraries in Nova Scotia because you can connect to other countries through the ferries. Nova Scotia is home to so many things that it takes time to explore them all. It is best to narrow down what you want to see and prioritize your interests.
The holy trinity of Chester, Lunenburg, and Mahone Bay coastal villages, or the South Shore is perfect for hiking amid dramatic, rocky vistas with plenty of time for Cape Breton Island. Suppose you want more pastoral ocean scenery, head for the Fundy Coast. Kejimkujik National Park would be an excellent spot for a quiet day canoeing. Halifax offers gourmet dining, urban buzz, and other things to do in Nova Scotia.
Schedule time for not doing much. Strolling around in quiet lanes, picnicking on a beach, or watching the tides from docks, boat decks, and hotel porches are the best ways to let Nova Scotia's charms sink in at their own unhurried pace.
Route 215 offers a beautiful coastal detour from Maitland to Windsor. This winding, fast, relatively narrow road (not recommended for bicyclists) passes through several quiet hamlets, some with handsome early buildings. But the chief appeal comes in the sudden vistas of lush green farmland and broad views of Minas Basin beyond. There is a lighthouse with a picnic area near it on the side of a rocky bluff in the town of Walton. This detour can be easily traveled from South Maitland to Brooklyn, passing through a few restaurants, B&Bs, and campsites.
Visit this page for driving directions in Canada.