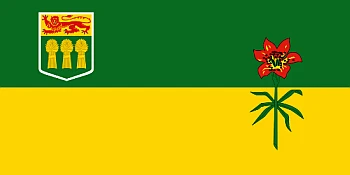 Formation: 1905. The origin of the name: Derived from the Cree Indian word kisiskatchewanisipi, which means "swift-flowing river," and was first used to describe the Saskatchewan River.
TIME: 6 AM CST = noon GMT; 5 AM MST = noon GMT.
Saskatchewan is a province in the east-central part of Canada. With about 1 million residents, it is one of the least densely populated provinces. The capital city of Saskatchewan, which is also its largest city, is Regina. Saskatoon, Moose Jaw, and Prince Albert are other vital cities in Saskatchewan.
Saskatchewan, the Canadian prairie province, is the country's breadbasket. It has over 250,000 farms and is the world's most important supplier of wheat, canola, and durum wheat. The province's economy centers mainly on agriculture and energy production. Other industries include food processing as well as transportation and manufacturing.
The province has 27% of Canada's lakes and 22% of its surface water. The capital is Regina, and the largest city is Saskatoon.
Map of Saskatchewan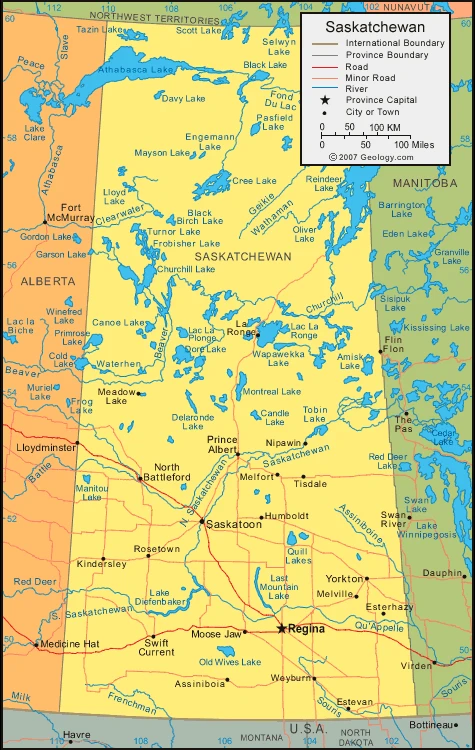 The climate of Saskatchewan
The whole province of Saskatchewan enjoys a hot, dry summer. The city of Estevan receives 2,540 hours of sunshine per year, the most sunlight in any other Canadian city. January has the lowest average daily temperature in Regina at 0°f (-18°c). It goes up to 66°f (19°c) in July. Saskatoon's measurements are -2°f (-19°c) in January and 66°f (19°c) in July. The highest temperature recorded in Saskatchewan was 113°F(45°C) on 5 July 1937. The lowest temperature recorded in Saskatchewan was -70°F(-56.7°C) on 1 February 1893, set at Prince Albert.
Facts about Saskatchewan
Saskatchewan is one of the three prairie provinces in Canada. It borders Alberta and Manitoba. The province covers an area of around 600,000 km2. Saskatchewan was initially established as a colony in 1881 and became a province in 1905 when it joined Canada.
It is situated in the Prairie region, one of the two provinces without a saltwater coast. All its boundaries are artificial, unlike any other province in Canada.
Saskatchewan has the highest quantity of lakes in any province, with over 70,000 registered lakes. This is 3 times more than Ontario's (the next largest lake province) total.
Saskatchewan is made up of some of the flattest prairies on Earth. The highest point in Saskatchewan is located at the Cypress Hills at 1051m, with an average elevation of 400m above sea level.
There are many different species in Saskatchewan. It has more different species than any other province in Canada.
The oldest gold mine in Canada is the McLeod Mine which began operating in 1906. Today, it is still one of the largest gold mines on Earth.
The entire province has only a one-time zone.
In 1905, Saskatchewan became a full-fledged member of the Canadian federation. Events in this region have cultural and historical significance that often predate 1905.
The area from which Saskatchewan is carved was first granted to the Hudson's Bay Company. In 1869, it was surrendered by the Rupert's Land Act back to the British crown and handed over to Canada in 1870.
The first known human inhabitants were present at least 12,000 years ago. They were mainly hunters.
Google Maps of Saskatchewan
Visit this page for driving directions in Canada.