While Canada and the U.S. share many similarities in language, landscape, and culture, there are also significant differences. One major difference is the social safety net that exists in Canada. Programs like universal healthcare and higher education subsidies mean Canadians enjoy a higher quality of life than their American counterparts. In terms of politics, the Canadian system is more consultative and less polarized than the American system, which can be seen as more adversarial. Canadians often take pride in their country's reputation for being polite and reasonable. Compared to the United States, they see themselves living in a peaceful society with minor crimes. They value their close relationship with nature, which is reflected in popular outdoor activities like camping and hiking. In general, Canadians seem to be more concerned with the quality of life issues than Americans, who tend to focus more on individualism and personal achievement.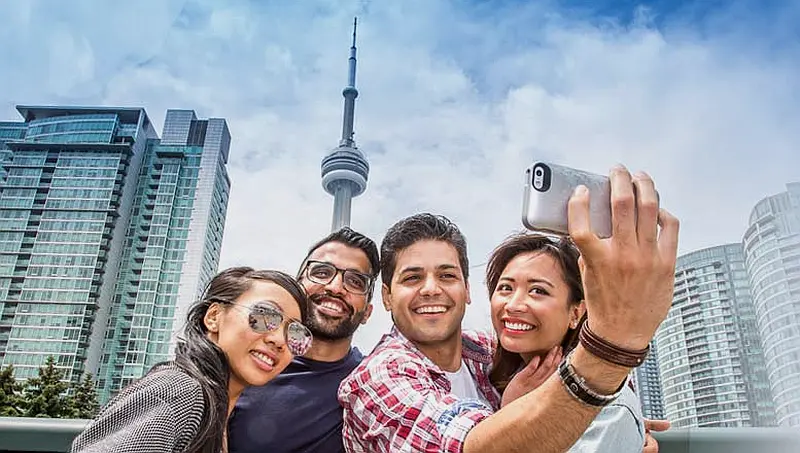 Everyday life in Canada is filled with a wide variety of activities, both cultural and environmental. From the remote northern territories to the bustling streets of Toronto, there is always something new to explore. Understanding Canadian life's diversity can help us appreciate all this country offers.
Comparison chart of Canada and the United States
| | | |
| --- | --- | --- |
| Country | Canada | United States |
| Flag | | |
| Currency | Canadian Dollar ($) (CAD) | United States Dollar ($) (USD) |
| Government | Parliamentary democracy (federal constitutional monarchy) | A federal presidential constitutional republic |
| Time zone | (UTC-3.5 to -8) | (UTC−5 to −10) |
| Population | 38,142,273 (38th) | 329.5 million (2020 census) |
| Calling code | +1 | +1 |
| Demonym | Canadian | American |
| Monarch | Charles III | None |
| Capital | Ottawa, Ontario | Washington, D.C. |
| Drives on the | Right | Right |
| National Anthem | God Save the Queen (Royal Anthem), O Canada (National Anthem) | Star-Spangled Banner |
| Date formats | DD/MM/YY | MM/DD/YYYY |
| Religions | Christianity, Islam, Judaism, Hinduism, Buddhism | Christianity, Islam, Judaism |
| Flag Colors | Red and white | Red, blue, and white |
| National language | English, French (Official) | English (De Facto) |
| Literacy rate | 99% | 99% |
| President | None | Joe Biden |
| Christian population (%) | 67.3% | 72% |
| Upper House | Senate | Senate |
| Continent | North America | North America |
| Introduction (from Wikipedia) | Canada (IPA: /ˈkænədə/) is a country occupying most of northern North America, extending from the Atlantic Ocean in the east to the Pacific Ocean in the west and northward into the Arctic Ocean. Read more here. | The United States of America, commonly referred to as the United States, America, and sometimes the States is a federal republic consisting of 50 states and a federal district. The 48 contiguous states and Washington, D.C. Read more here. |
| International abbreviation | CA | USA |
| Space Organisation | Canadian Space Agency | NASA |
| Official Name | Canada | The United States of America (USA) |
| Description of Flag | Red and White. Red Maple Leaf in the center | Red and white stripes and 50 white stars on a blue background in the upper left corner. |
| Lower House | House of Commons | House Of Representatives |
| Regional Divisions | 10 Provinces and 3 Territories | 56 political divisions (50 States, 1 Federal District, and 5 major overseas territories) |
| Measurement system | Metric / Imperial (legacy) | Customary |
| Current constitution | Adopted and made active in 1867 (authority Parliament of Great Britain) – Constitution Act 1982 (Canada gains total sovereignty) | BNA was adopted on September 17, 1787, and made active on March 4, 1789 – Queen Elizabeth signed off C.A. on April 17, 1982 |
| Preceded by | British Canada | Thirteen Colonies |
| Head of State | Her Majesty Queen Elizabeth II | Joe Biden |
| Most used language | English | English |
| Largest city | Toronto (2.8 M) – Metro Area app. 6 Million | New York City (8.538 M) – Metro Area 19 – 20 Million |
| Written Language | Canadian English, Canadian / Quebec French | English |
| Flag | The Maple Leaf – February 15, 1965 | Star Spangled Banner, Old Glory |
| Official languages | Canadian English, Canadian French | None |
| Internet TLD | .ca | .us .gov .mil .edu |
| Department of Defense | Department of National Defence | U.S. Department of Defense and Homeland Security |
| Legislature | Parliament of Canada | Congress of the United States of America |
| Speaker of the House | The Hon. Andrew Scheer, M.P. | Nancy Pelosi |
| Navy | Royal Canadian Navy | U. S. Department of the Navy, U. S. Department of the Marine Corps, U. S. Department of the Coast Guard |
| Army | Canadian Army | U.S. Department of the Army |
| Air Force | Royal Canadian Air Force | U.S. Department of the Air Force |
| Language(s) | English, French | English (De Facto), Spanish |
| Political Leader | Justin Trudeau | Joe Biden |
| Muslim population (%) | 3.2% | 2.1% |
| National Animal | Beaver | Bald Eagle |
| Special Forces | CANSOFCOM | US Special Operations Command (not naming groups, tasks, or training) |
| Current Leader | Justin Trudeau (Prime Minister) | Joe Biden (President) |
| Intelligence Agencies | Canadian Security Intelligence Service or CSIS | Central Intelligence Agencies or CIA |
| Official script | Latin/Roman | Latin/Roman |
| Independence | Confederation July 1, 1867; 1931 Statute of Westminster (From British Empire to Commonwealth Nation) | from Great Britain (July 4, 1776) |
| Independence: Recognized | July 1, 1867 (Canada created subject to British law – British North America Act) | September 3, 1783 |
| Life expectancy | 82 | 79 |
| Highest Point | Mount Logan, 5,959 m (19,551 ft) | Mt. McKinley 6,914m (20,308 ft) |
| Languages | English, French (mainly in Quebec) | English |
| Recognized regional languages | Inuktitut, Inuinnaqtun, Dëne Sųłiné, Cree, Gwich'in, Hän, Inuvialuktun, Slavey, Tłįchǫ Yatiì | Navajo, Central Alaskan Yup'ik, Dakota, Western Apache, Keres, Cherokee, Zuni, Ojibwe, O'odham |
| Hindu population (%) | 1.5% | 0.4% |
| General political conditions | It is a democratic, independent nation that is part of the Commonwealth of Nations and thus has close ties to the United Kingdom. Over time, the United States has become Canada's major international relation. | It is an independent nation, a republic. |
| Lowest point | Atlantic Ocean, Sea Level | Badwater Basin (−85.5 m) |
| Motto | A Mari Usque Ad Mare (Latin for "From Sea to Sea") | In God We Trust |
| Buddhist population | 1.1% | 0.7% |
| Nobel laureates | 25 | 331 |
| Flag Nickname | The Maple Leaf | Star-Spangled Banner |
| The total length of the land border | 8,893 km | 12, 034 km |
| Urban population (%) | 80% | 82% |
| Total internet users | 85.8%% | 254,295,536 (81%) |
| Tallest Building | C.N. Tower (446.5 m) 1,464.9 ft. | One World Trade Center (541.3 m) 1776 ft. |
| Weather agencies | Environment and Climate Change Canada | National Weather Service |
| Area | 9,984,670 km² (2nd) 3,854,085 sq mi | 9,857,348 km² |
| Further information | Canada | United States |
Last update: 07/2023
Celebrations and traditions
Canada celebrates some of the same holidays as the United States, especially religious holidays such as Easter and Christmas. In May, Canadians can also celebrate Queen Victoria's birthday with parties organized by friends and family. This memorial day has been celebrated since 1845 in honor of then-reigning Queen Victoria of England and is viewed as the first of the summer holidays.
Canada is a wonderful place to live, and we like to celebrate the holidays throughout the year. One of the most well-known celebrations is Canada Day on July 1. This holiday commemorates the formation of the Dominion of Canada in 1867. Another well-known public holiday is the August Civic Holiday, which lasts three days. Canadians often enjoy the luxury of their mountains, beaches, lakes, and other natural beauty during this time.
Canadian Thanksgiving is celebrated much as it is in the United States, except for an earlier date. When Americans celebrate Thanksgiving on Thursday, November 28, Canadians will celebrate a day earlier on Monday, October 24. There are also some differences in what people have their dinner before the football game on Thursday or the speech and dinner on Friday. It is a time to enjoy the harvest with family and friends after working hard all year. Learn more about Canada's nations and provincial holidays here.
Influences of heroes
Canada is home to a wide variety of heroes, past and present. Canadians seem to naturally offer unassuming pride rather than elevating these individuals to superhero status. Learning about Canada's heroes will help you better understand the factors that have helped shape this country. Creating a Canadian identity is a dynamic process that relies on people from all walks of life and backgrounds.
Take the life of Terry Fox, a Canadian man who lost his leg to cancer. Terry wanted to do something serving his vision, so he decided to run across Canada from Newfoundland to British Columbia. This 1980 "Marathon of Hope" was a mission for Terry to raise funds and increase awareness for cancer research. Even though Terry died before he could complete his task, his memory lives on in this annual September event that raises more than $300 million (Canadian Dollars). Students, fellow Canadians, and even people worldwide participate in this event.
Many different aspects of Canadian society and culture make it what it is. One of these essential parts is the character and achievements of specific individuals, which have helped shape Canada's identity over the years.
Leisure time
Canadians have come up with many ways to stay busy during the year's cold months, from its long winters to its frozen temperatures. One way is with the pursuit of ice-based games, which evolved into hockey many years ago and has become a popular sport in Canada today. The first public hockey exhibition was played in 1875 by the founder of hockey, James Creighton. This year marks 150 years since the game began and 49 long decades Canada has spent cheering on their favorite players. "Hockey Night in Canada" has become a widely viewed Saturday evening event for many Canadian families during hockey season; it often airs after weeks of anticipation. But many more winter sports have also become popular, such as speed skating, figure skating, skiing, snowboarding, and curling.
Pop culture
Canada has some of the most well-known musicians in the world. Celine Dion, Shania Twain, Sarah McLachlan, Alanis Morissette, Loreena McKennit, Bryan Adams, and the Tragically Hip are just a few.
Jim Carrey, Michael J. Fox, Donald, Kiefer Sutherland, and Dan Akroyd have become famous American actors with their work in Hollywood. However, many movies and television shows are now being produced in Canada. Financially encouraged by government policies, Canada has attracted some U.S. movie productions to the country. The Canadian Rocky Mountains and cities like Vancouver, Toronto, and Montréal are becoming more popular shooting locations for these films. This new trend is an indication that Canadians are making an impact on a traditionally American-dominated industry.
Canada's youth
With so much positive news about Canada's youth, it's important to know that there are also some worrisome trends. The good news is that most of the country's teens are in school, enjoying access to computer technology, and experiencing a decline in crime rates. But the research suggests that at a certain point, working more than a moderate number of hours has a negative effect on their performance in school.
A digital divide is forming on home fronts related to family income and access to technology. Widening gaps in Canadian youth are emerging due to growing inequality. Youth who are economically and socially at risk are increasingly being left behind. Increased user fees for participation in quality recreation areas have become an enormous barrier for those with limited income or who live in impoverished neighborhoods. As these recreational programs, such as art and music programs, swimming, or team sports, significantly contribute to health and optimal physical and emotional well-being, this becomes a significant issue.
Poor educational services are a growing problem in rural areas. Because these regions often don't have good funding, they don't get the necessary resources. This can be true for people with special needs children and educational systems.
Whether or not you believe him as Prime Minister, it's clear that Justin Trudeau is committed to investing time and resources into youth programs. The Canadian government has said it will try to ensure all young Canadians have the same opportunity. This means creating investment timetables and improving grassroots (local) programs, so they make a difference for everyone. Even though there's been some progress, more work needs to be done before we can turn around the worrisome trends in our communities.
Being "Canadian"
You've read about many of Canada's traits in this post. So, what are common global perceptions of Canada's people? Many think Canadians are tolerant, friendly, peace-loving, modest, and polite.
Canada's population is growing due to immigrants and refugees coming to the country. Previous generations of immigrants welcome the next generation of their family with open arms. The country is also home to those fleeing oppression and persecution in volatile countries. This increasing population shows that Canadians appreciate our diverse population. Canadian rights are guaranteed by the Canadian Charter of Rights and Freedoms.
Canadians say what they mean and aren't afraid to voice their opinion, but they are always polite and keep an open mind when listening to other ideas. If you respect people's differences and educate them about them, you can improve Canadian society as a whole. Canada is a diverse country with much regional variation, which provides examples of this "tradition of tolerance" approach everywhere in Canada.
Regional distinctions
Each of the regions in Canada has a uniqueness that is good for describing the people who live there.
Living in the North
People living in the territories of northern Canada today continue to live traditions from modern times. Children live in modern, wood-framed houses, watch T.V., use the internet, and attend school. Over the past decades, people have come to the North for work in the oil, gas, and mining industries. Instead of settling there, they return to more populated areas after a short time at a high-paying job.
Living in British Columbia
Mild winters and wonderfully scenic landscapes are vital attractions for the nature-oriented residents of the highly populated lower mainland, coastal islands, and mountainous interior of British Columbia. A source of both beauty and wealth for the people, the forests of this region present conflict among the residents. Those who want to protect the original forests for future generations clash with the logging companies that log the forests for income. The fishing industry is also a source of conflict among the residents (Aboriginal vs. non-Aboriginal) of British Columbia, as are the "salmon wars" with the United States.
Living in Alberta
The oil and natural gas industries and agriculture are critical components of Alberta's economy. They are the economic engines that have fueled many of the economic successes in Alberta, particularly in Edmonton and Calgary. Many Albertans live in cities or towns, but ranching roots are still quite prevalent today. The Calgary Stampede is a ten-day ride-day festival of rodeos, parades, and celebrations showcasing cowboy culture to the city of Calgary.
Living in Saskatchewan
The province of Saskatchewan is where most people live on farms. Wheat, canola, barley, and rye are the main crops grown in the fertile plains of Saskatchewan. Over half of the province has a boreal forest that provides another renewable natural resource for Saskatchewan. The capital city of Regina is home to the training academy for the RCMP, which is located in the only province with entirely manmade boundaries.
Living in Manitoba
Manitoba is a unique Canadian area with significant transportation links between East and West—major railways, highways, and airways pass through Manitoba. Winnipeg is the capital of Manitoba and has more than one-half the province's population. Manitoba has the second-lowest population density in Canada, but it's home to many ethnic groups. One significant Ukrainian settlement outside of Ukraine is in Manitoba. Important Icelandic, Métis, and Mennonite communities also enrich the culture and economy in this province.
Living in Ontario
Ontario's population mostly lives in cities, and they work in either the service or manufacturing industry. The automobile industry of the Golden Horseshoe region produces billions of U.S. dollars in exports annually. Northern Ontario is a mirror image of the heavily populated southern part. Here, small airplanes provide transportation for people and supplies from one forested location to another, as highways don't exist in this rugged landscape. People living near Moosonee, on the southern end of James Bay, can access rail links from Southern Ontario!
Living in Québec
French-speaking Quebec has significantly impacted Canada's politics, while hydroelectric power in James Bay has similarly shaped the lives of people and wildlife. With the damming of rivers, exploitive repression has been enacted by Canadian corporations. Natural hot springs were also disturbed by the extensions of nearby ski resorts.
Living in the Atlantic Maritimes
Once the most important industry for this region, fishing has fallen on hard times. As the people here depend heavily on precious natural resources, any shift in resource supplies significantly affects their standard of living. That's why fishing communities have seen an economic downturn with the discovery of oil off the Grand Banks. The high cost of extracting the oil from beneath the sea caused significant restrictions to its usefulness as an economic resource. However, not all hope is lost for those who live in this amazing region. There are many job opportunities in tourism for locals thanks to picturesque coastal towns and villages bordering the Atlantic Ocean.
The movement of people, goods, and ideas in Canada
Understandably, geography is not limited to studying physical features and political boundaries. It also encompasses the consideration of human activity. Some elements that fall under human geography are how people live, where they choose to live, and how they react to and adapt to their physical surroundings.
The federal government says that this plan is a way to connect Canadians. This movement hopes to make Canada the most Internet-connected country in the world, and by becoming a leader in this area, Canada can also benefit from its population growth.
Environment
Whether or not the population is increasing, an environment that is healthy and balanced is essential for a positive quality of life. Caring for Canada's forests, grasslands, tundra, and wildlife is part of this delicate balance. Air and water quality are also important in sustaining health and prosperity. Canada's high life expectancy rate of 79 years is connected to the continuation of Canada's healthy environment.
Canadians are working hard to improve the environment and protect wildlife. New federal initiatives and international efforts have already helped reduce pollution in Canada, such as plans for improved treatment of municipal wastewater, reductions in the discharge of industrial pollutants, and declines in fish and wildlife contaminants.
Conclusion
Overall, Canadians are proud of their diverse heritage and achievements. The country is constantly evolving and adapting to the ever-changing world around them, which is evident in its celebrations, traditions, and leisure activities. While they may appear similar to Americans at first glance, the two cultures have many distinct differences. With its rich history and beautiful landscape, Canada is a truly unique place that is definitely worth exploring.