Nova Scotia, Prince Edward Island, and New Brunswick are all provinces in the Atlantic Canada region of Canada. The beauty and lure of coastal scenery, picturesque centuries-old villages, world-class historic sites, and a wealth of family attractions have made this region a traveler's paradise.
What to see and expect:
Charming seaside villages and towns
A unique blend of English, Scottish, and French Acadian roots
Great seafood
Coastal beauty is always nearby. The striking scenery of New Brunswick's Bay of Fundy and the picturesque, centuries-old villages of Acadian families has made these Maritime Provinces one of Canada's top vacation destinations. Nova Scotia's sparkling bays and ancient weathered fishing towns embody the romance of the sea. Prince Edward Island, Canada's smallest province, is known for its vibrant green farmlands and is enjoyed by cyclists, anglers, and hikers.
Google Maps
New Brunswick, Nova Scotia, and Prince Edward Island are three of Canada's Maritime Provinces. They are located on the country's East Coast and are known for their natural beauty and friendly people. These provinces are also home to some of Canada's most popular tourist destinations, including Halifax, Peggy's Cove, and Charlottetown.
Fundy National Park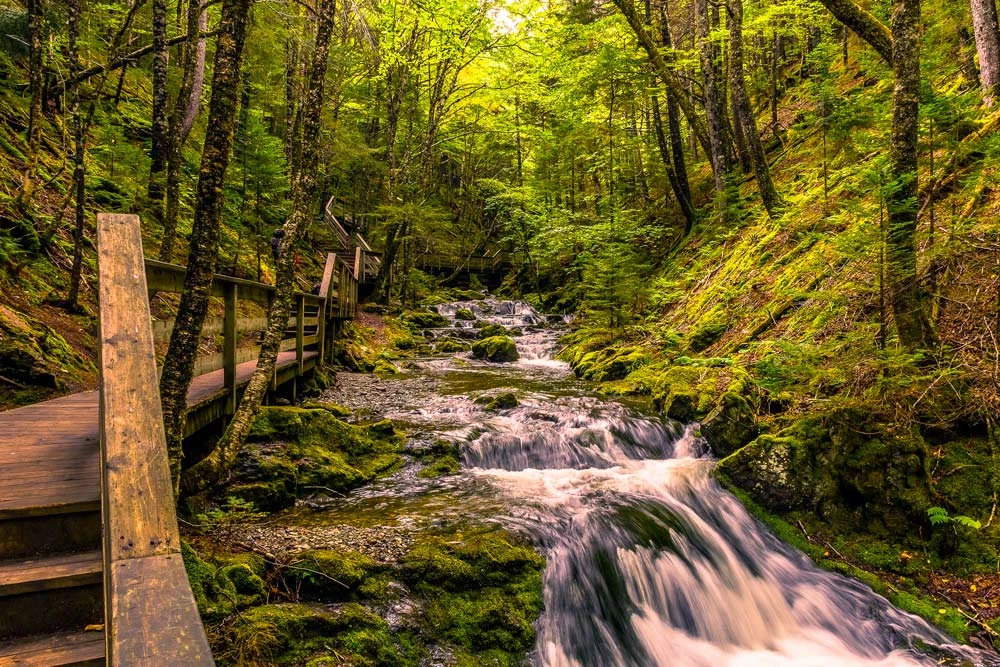 One of Canada's most beloved national parks, Fundy National Park, is located on the Bay of Fundy between New Brunswick and Nova Scotia. The park is home to an incredible array of wildlife, including moose, bald eagles, and ospreys. Visitors can explore the park's many hiking trails, canoe, kayak on one of its many lakes, or even dip in the world-famous Bay of Fundy!
Saint John
New Brunswick's largest city, Saint John, is a charming town that still retains the feel of a small city. Although it was founded in 1785, 14,000 loyalists escaping the turmoil of the American Revolution built Saint John in under a year when the city was first built. It has made the historic center exciting for visitors to explore with colorful produce and seafood vendors. In nearby Market Square, visitors can find upscale restaurants and stores.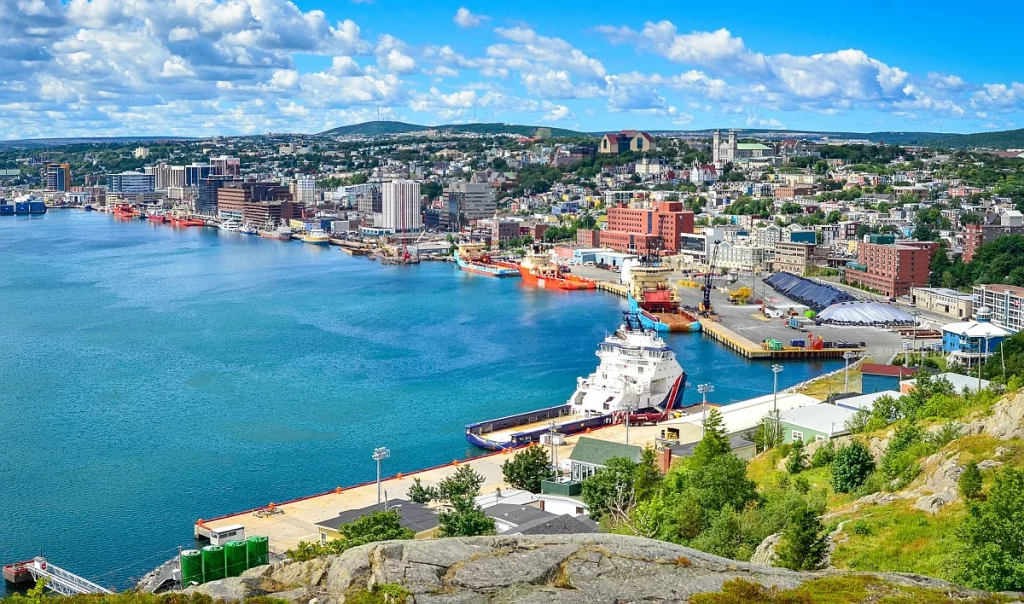 Market Square is also the home of the lively New Brunswick Museum. Three floors showcase New Brunswick's geological, cultural, and natural history exhibits. Children enjoy seeing exhibits like the Hall of Whales and the three-level Tidal Tube that re-create the New Brunswick tides and cover green topics such as whaling. Nearby, in an impressive Georgian house built by Loyalist David Merritt in 1810, the Loyalist House Museum documents everyday life among wealthy families.
Passamaquoddy Bay
If you're looking for a breathtaking place to take in some of Canada's maritime history, look no further than Passamaquoddy Bay. Located between the provinces of New Brunswick, Nova Scotia, and Prince Edward Island, this beautiful Bay is home to many shipwrecks, lighthouses, and other nautical attractions.
One of the most popular spots in Passamaquoddy Bay is the St. Croix Island International Historic Site. This island was the site of an early attempt at French settlement in North America, and today it is a beautiful place to hike, picnic, and bird-watching.
Plenty can be found in the waters around Passamaquoddy Bay for those interested in shipwrecks. There are over 400 shipwrecks in the area, making it a veritable goldmine for divers and maritime historians.
No visit to Passamaquoddy Bay would be complete without seeing one of its iconic lighthouses. There are several to choose from, but our favorite is the East Quoddy Head Lighthouse. This striking red-and-white structure has been guiding ships through the Bay since 1829 and is one of
Fredericton
Welcome to Fredericton, the capital city of New Brunswick! This charming city is located on the Saint John River and is home to a vibrant arts and culture scene. There are plenty of things to see and do in Fredericton, from exploring the historic downtown to visiting one of the many museums or galleries. And, of course, no visit to Fredericton would be complete without sampling some of the local cuisines! Whether you're looking for a casual meal or a fine dining experience, you'll find it all in Fredericton.
Grand Falls
Grand Falls is a town in New Brunswick, Canada. The town is located on the St. John River, which forms the border between New Brunswick and Maine. The falls for which the town is named are located just upstream from the town center.
Grand Falls was founded in 1837 by John Taylor, a businessman from Portland, Maine. The falls were an essential source of power for sawmills and gristmills in the area, and the town quickly became a thriving lumbering community. In 1856, a covered wooden bridge was built across the St. John River at Grand Falls, linking the town to Maine.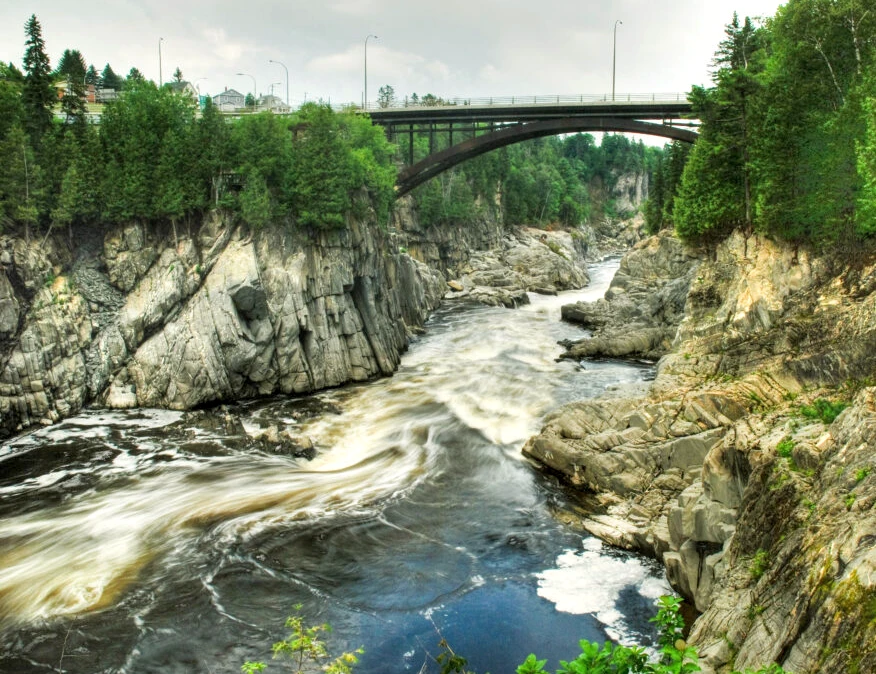 Grand Falls is a popular tourist destination due to its scenic location and outdoor recreation opportunities. The falls are accessible via a short hike from the town center and several golf courses.
The Acadian Peninsula
The Acadian Peninsula is a beautiful and unique place in the world. It is home to the largest concentration of Acadians in the world and is also the only place in North America where French is the dominant language. The peninsula is also known for its stunning scenery, including the Bay of Fundy, with its dramatic tides and picturesque villages dotting the coastline.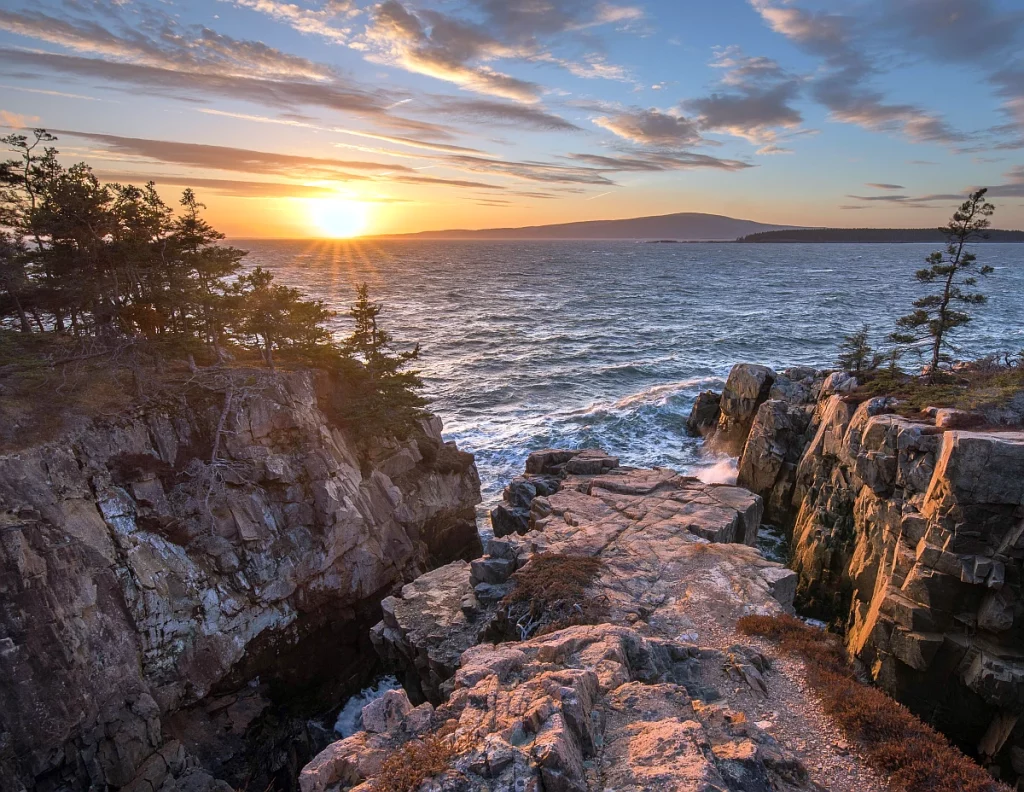 Whether you're looking to explore your French heritage, enjoy some fantastic seafood, or take in the stunning scenery, the Acadian Peninsula is worth a visit.
Kouchibouguac National Park
Kouchibouguac National Park is a beautiful place to visit. The park is home to many species of animals, including endangered ones. The park also has many plants, some of which are rare.
Bouctouche
Bouctouche is a beautiful town in New Brunswick that is full of history. The town is home to the largest dune in the Maritimes, a popular spot for hiking and picnicking. There are also many great restaurants and shops in Bouctouche.
Village Historique Acadien
The Village Historique Acadien is a living history museum in New Brunswick that depicts life in an Acadian village in the 18th century. The village is home to over 40 buildings, including homes, barns, a church, and a schoolhouse. Visitors can explore the village and learn about the Acadian culture and history. The Village Historique Acadien is a great place to learn about the Acadian people and their way of life.
Prince Edward Island
There's something special about Prince Edward Island. Maybe it's the red sand beaches or the rolling green hills. Whatever it is, this Canadian province has a lot to offer visitors.
The beautiful island of Prince Edward offers scenic landscapes that change as your drive. You can experience golfing on some of Canada's best courses, or if you like sunbathing, you'll be able to find plenty of high-quality beaches to spend time on. The lovely historic villages are home to elegant country inns and art galleries. At the same time, the evening is your opportunity to enjoy one of the famous lobster suppers before returning, done fresh daily from the ocean.
Amherst
There is so much to love about Amherst! This small town in Nova Scotia is home to incredible seafood, beautiful beaches, and friendly locals. Amherst is the perfect place to relax and enjoy the simple things in life.
Amherst overlooks the world's largest marsh, and hay grows on reclaimed land. The Cumberland County Museum is located in the family home of Senator R.B. Dickey, one of Confederation's fathers, focusing on the area's industrial development and local history. It also features archaeological digs at an Acadian village.
Truro
If you're looking for a truly unique Canadian experience, look no further than the town of Truro in Nova Scotia. This charming town is home to a vibrant arts and culture scene, as well as some of the best food and drink in the country. Whether exploring the town's many museums and galleries or enjoying a meal at one of its many great restaurants, you're sure to have a memorable time in Truro.
Parrsboro
Parrsboro is a town in Nova Scotia, Canada. It is located on the Bay of Fundy, near the Minas Basin. The town is known for its many beaches, as well as its art galleries and musician scene. Parrsboro is also home to the world's highest tides, reaching up to 16 feet (4.9 meters).
Windsor
Windsor is the capital of Nova Scotia and the province's second-largest city. It is located on the border with New Brunswick, on the north bank of the Avon River. The city has a population of just over 21,000 people.
Windsor is known for its Victorian architecture and its many historic buildings. The town is home to Windsor Castle, the oldest castle in Canada. Windsor has a lively arts scene with numerous galleries and performance venues. The city is also home to the NSCC campus, which offers various trades and technologies programs.
Wolfville
This charming town is located in the Annapolis Valley and is known for its beautiful scenery, friendly people, and great food. If you're looking for a place to relax and enjoy some stunning views, then Wolfville is the perfect spot for you. This town has plenty of things to do, from hiking and biking trails to shopping and dining. You'll want to check out the local wineries while you're here. Make sure to add Wolfville to your must-visit places in Nova Scotia!
Annapolis Royal
Annapolis Royal is a small town located in the Annapolis Valley region of Nova Scotia. This town is rich in history and culture and is home to many beautiful buildings and monuments. Annapolis Royal is the perfect spot for you if you're looking for a place to enjoy quiet. There are plenty of things to do in this town, from exploring the local shops and restaurants to taking a walk through the historic streets. You'll want to add Annapolis Royal to your list of places to visit in Nova Scotia.
Digby
Digby is a town in Nova Scotia, Canada. It is located in the Annapolis Basin in the Bay of Fundy. Digby is known for its fishing industry and as a gateway to the Annapolis Valley. The town has a population of 2,073 as of 2016.
Digby was founded in 1783 by Admiral Sir George Digby, commander-in-chief of British North America during the American Revolutionary War. The town was named after Sir George's father, Edward Digby, Baron Digby of Sherborne.
The town's economy is based on fishing and tourism. The town is home to the annual Scallop Days festival, which celebrates the scallop fishery. Digby is also home to the longest wooden wharf in North America.
Shelburne
Shelburne is a town in Nova Scotia, Canada. It is located on the province's southwest coast, about 160 km (100 mi) southwest of Halifax. The town is home to the Shelburne Museum, a maritime museum with a collection of over 30 historic buildings and exhibits.
Lunenburg
If you're looking for a charming, historic town in Nova Scotia, look no further than Lunenburg. This UNESCO World Heritage Site is known for its preserved 18th-century architecture and vibrant fishing industry. You can explore the town's nautical past in Lunenburg, enjoy fresh seafood, and enjoy stunning harbor views.
Mahone Bay
There's something special about Mahone Bay. Maybe it's the way the town is nestled between three picturesque harbors. Or maybe it's the colorful row of houses lining the waterfront. Whatever the reason, Mahone Bay is a must-visit in Nova Scotia. And there's no better time to visit than during the Mahone Bay Founders' Days festival. This annual event celebrates the town's history and heritage with a parade, live music, and plenty of food and drink. If you're lucky, you might even catch a glimpse of some of Mahone Bay's famous ghosts!
Peggy's Cove
If you're looking for a breathtakingly beautiful spot to enjoy the ocean views, then Peggy's Cove is the place for you! This small fishing village is located on the East Coast of Canada in Nova Scotia and is known for its picturesque setting. The cove is surrounded by rocky cliffs and has a small lighthouse that sits atop a granite outcrop. Visitors can explore the area on foot, and there are also several restaurants and cafes nearby if you need to refuel.
Halifax
There's a lot to love about Halifax, the capital city of Nova Scotia. Halifax has something for everyone, from its rich maritime history to its lively arts and culture scene. And, of course, no visit to Halifax would be complete without indulging in some of the city's renowned seafood.
Halifax is a historic city with a mix of modern and historic architecture. A bustling waterfront, beautiful parks, and an exciting history from the founding in 1749 by General George Cornwallis until today make Halifax fascinating to explore. With 250 years of history, including legalized pirates or privateers bringing captured ships to be shared with the crown, it's well respected as one of Canada's foremost centers of higher learning with five universities.
The Eastern Shore
There's something special about the eastern shore of Canada. Maybe it's the way the light hits the water, or the leaves change color in the fall. Whatever it is, there's no denying that this part of the country has a certain magic.
A tour along the Eastern Shore will take you to old-world Nova Scotian towns and villages where life has changed little since the turn of the 20th century. The homes of Fisherman's Life Museum in Jeddore, Oyster Ponds are a time capsule into Nova Scotia's coastal fishers' culture. Guides in period costumes cook over a wood-burning stove at lunchtime while visitors watch them. There are many interactive demonstrations in Sherbrooke Village, with tours and presentations on traditional life in 19th-century Nova Scotia.
The village is the largest living-history museum in the country. It features permanent exhibits housing scores of costumed guides and a variety of temporary exhibits ranging from rug-hooking to quilting. One highlight is the fishing stage, where salted fish were stored. The Apothecary provides a hands-on environment where visitors can see the creation of medicine and watch as its employees work. The Ambrotype Studio allows you to dress up in period clothing and, with an antique camera, take your picture for display on glass. For those feeling adventurous, just outside town, a massive waterwheel turns, powering the Lumber Mill.
Cape Breton Island
Condé Nast Traveler readers and Travel + Leisure readers voted Cape Breton Island the #1 Island in North America. They rank the top destinations and companies across the globe.
There are many natural attractions on Cape Breton Island. Every year, thousands of people travel along the famous Cabot Trail to see the craggy splendor of Cape Breton Highlands National Park. However, there is more to this island than these two renowned sights; its beauty can be found in inviting country roads and less explored corners of the green and fertile island. Visitors should see Mabou Highlands which cradle the gentle waters of Lake Ainslee, Bras d'Or Lake, where eagles soar over scenic shores, and seaside villages like windy Gabarus and Fortress Louisbourg – a reconstructed 18th-century French village.
Conclusion
If you're looking for a beautiful and historic vacation destination, look no further than the Atlantic Canada region of Canada. This region has something for everyone: stunning coastal scenery, quaint villages, world-class attractions, and plenty of family-friendly activities. So pack your bags and head to Nova Scotia, Prince Edward Island, or New Brunswick for an unforgettable vacation experience.